Large Truss Dobsonian Covers
Our large truss Dob Cover series offer large Dob owners the best possible protection available in a scope cover. They provide superior rain and moister protection; they are not just water resistant. They are extremely tough and can provide years of service under normal use.
The TeleGizmos material performance is unaffected by wind, sun, sub-freezing temperatures or UV. The fully aluminized/poly exterior surface will keep your scope significantly cooler on hot summer days translating into much faster cool down times once the sun sets.
Designed to give the best possible fit, these covers have two main connected components: The main tube section is four connected tapered panels, the narrowest point starting at the UTA and then gradually widening to the point of attachment at the rocker box. The rocker section of the cover is boxed shape to conform the general shape of the rocker. All connection seam points are double lapped and micro-stitched. The resulting seam is highly resistant to moister penetration to assure your scope will stay dry under even the hardest rains.
We offer three standard sizes that where developed with the aid of several owners of large truss Dobs and the assistance of Roger Greenwood of AstroCrumb In most cases, our standard sizes will provide you with an excellent fit. However, because of modifications that many Dob owners perform, we can modify any of the standard size covers to meet a specific need. For example, we recently modified a TG5D cover for an owner who had added 10" of extra height to the base of his rocker. We added the extra 10" to a standard TGD5 and as a result was able to provide for his specific cover needs. We offer this service for very little extra cost, often at no charge if the modification is minor. Speak with your dealer or contact us direct for more information.
It is important that you check your scope dimensions to determine your specific size needs. Listed below are the standard cover specifications. Should you determine you need to measure, please use the following step by step guide with photos:
Measuring Large Truss Dobs
To determine the best possible cover fit, check these dimensions on your scope then reference the stated dimensions on the Truss Dob Cover page.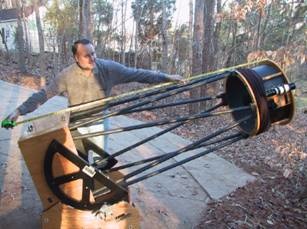 Combined tube and mirror box measurement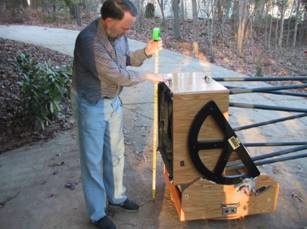 Top of mirror box to ground w/scope horizontal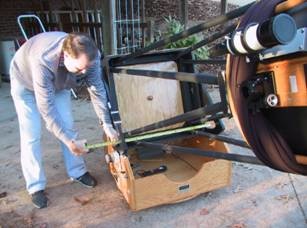 Width of mirror box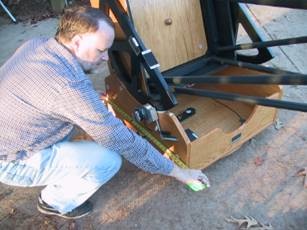 Width of base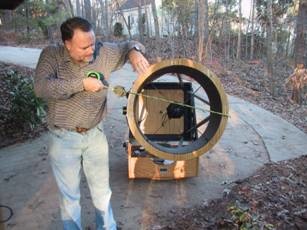 Diameter of UTA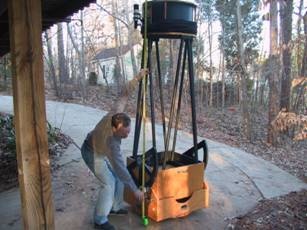 Total vertical height
Photos of Robert White with his Starmaster Scope. Courtesy Robert White.