| | |
| --- | --- |
| Article number: | SVSX130T |
| Availability: | Order Now! |
| Delivery time: | Due to heavy demand and manufacturer backorders we are currently taking orders on this item - place your order now to ensure timely delivery! Your 10% deposit is fully refundable. |
Premier Stellarvue Optics! These are not mass produced optics. The SVSX130 objective is hand figured in our optical shop in Auburn California to the highest optical specifications. We provide a certified test report demonstrating its optical prowess. 
Stellarvue's six element, apochromatic, imaging astrograph is made with ED and Lanthanum glasses to create a wide, flat, excellently color-corrected field. The system operates at 655 mm focal lenth, f-5. Think of it as a Petzval using triplets on either end so no other flattener/reducer is needed. Each element is extremely broadband fully multi-coated to eliminate reflections. Combining these coatings with excellent optical correction, this imager is capable of reaching deep and showing more than smaller instruments intended for this purpose.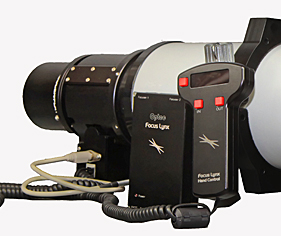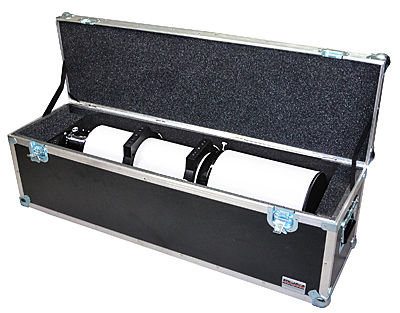 To further increase the ability of the system, we are using the Optec 3" TCF-S3 motorized, temperature compensating focuser. This focuser has 1" of travel, is extremely robust and stable. Once the temperature compensation is worked out, imaging is much less of a hassle as temperatures drop. The unit compensates for optical shift in this system as temperatures change. Everything is included, the Focus Lynx, Motor, Temperature Sensor and new hand controller. Since we include everything you can use this focuser both with your laptop or with the hand control. 
Heavy duty CNC machined rings are made in our shop to mount the system rigidly and we include our TP13 Losmandy style plate with each system. Also included is a heavy-duty C130HC hard case, proudly made in America! The Stellarvue C130HC is made of 3/8" plywood and finished with tough PVC laminate, metal edges, and steel corner reinforcing brackets. Features include two dolly wheels to help you move it around, a spring-loaded heavy-duty handle that is flush to the case, two turn-to-open draw latches, three metal hinges and webbing straps to keep the lid from falling backwards. The case interior is lined with foam, and a custom cutout is provided for your 130. Outside dimensions are 43" x 13" x 14" and the weight (without telescope) is 28.6 pounds.
This astrograph is designed specifically for astro imaging at f-5. This is not a visual telescope. If you are looking for a 130 mm telescope that may be converted to an imaging astrograph our SVX130 is the telescope you need. 
Free shipping:  Order now and when ready the telescope will ship free to the lower 48 states only. Shipping will be either UPS or Fed Ex whichever has the lowest rate. You may either order online and pay full price or call us and place a phone order with a $500 deposit. Either way you will be placed in line when payment or deposit is received. We build these hand crafted telescopes one at a time so the sooner you get on the list, the sooner you will receive yours.