| | |
| --- | --- |
| Article number: | SV070T-25SV |
| Availability: | Order Now! |
| Delivery time: | Ships from our west coast warehouse in 7-10 days |
This is the Stellarvue 70 mm f-6 apo triplet featuring our latest version of the Stellarvue 2.5" dual speed, rack and pinion focuser (FSV-25A). Read Jon Talbot's review of the SV070T as it appeared in Astronomy Magazine. The focuser is set up to accept our optional dedicated .8X photographic field flattener/reducer converting the telescope into a 336 mm f-4.8 astrograph. Order the SV70T reducer/flattener on the SFFR70APO Page. This telescope also comes with heavy duty dual rings and an airline carry-on sized travel case. This is not a mass produced scope using inferior glass and sloppy mechanics. This is a truly premier 70 mm apochromat. 
The Stellarvue SV70T-25SV features a 70 mm f-6 (420 mm focal length) fully multi-coated, 3 element objective lens with a Hoya FCD100 center element.
Each lens focuses light precisely and in addition the extreme broadband coatings on each surface enhance it even further. Using it visually, the stars appear vivid and the background, velvet black. Since these coatings transmit more than 99% in the visual spectrum and far above and below it, reflections seen on CCD images are eliminated. The relatively fast speed and high strehl optics make the 70 apo our widest field imaging telescope and the visual performance is simply stunning.
We now offer rider blocks with or without longer rails. These allow the telescope to balance properly when camera gear is used that moves the center of balance over the focuser. The riser blocks raise the telescope 1.5" above the rail and this allows the rail to extend under the focuser and camera. The telescope can then be moved forward and balanced. Learn more about Stellarvue Riser Blocks here.  
Tube and dew shield: The SV70T comes with an aluminum tube and dew shield that is finished in Instrument White. Fittings are black anodized aluminum. The dew shield retracts reducing the length of the telescope when being stored. Extending the dew-shield minimizes dewing of the objective at night and serves as a glare shade during the daytime. 
Internal tube treatment:  The inside of the main tube assembly is painted "ultra flat black" and is baffled to eliminate tube wall reflections.
2.5" Stellarvue visual/photographic focuser: Many years in the making, our new smooth and stable dual speed, 2.5" focuser provides a full 2.875" of travel. This focuser is perfect for visual use and imaging. The 2.5" focuser has an ultra-smooth (10:1 Ratio) fine focus control to attain perfect focus every time. An internal brake system allows the user to adjust capacity. All of the features add up to one of the finest dual speed focusers available today.
Motorized Focuser Options: Optec and Starizona
Aluminum hinged rings: The SV70T comes with two heavy duty, hinged aluminum mounting rings. Each ring has three screws top and bottom. Threaded holes are 1/4-20. There is one center hole, two holes spaced 1.5" apart. Use the included rail for telescope mounts using the Vixen style rail or use an optional TP6 for mounts that use the larger Losmandy style rail.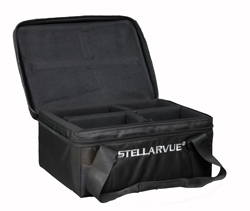 Case: The SV70T comes with a thickly padded, C20, airline carry-on case. Outside dimensions: 22" x 9.5" X 7.5". Inside dimensions: 19.5" X 6" X 5".
Light gathering and magnification power: A 70 mm refractor gathers 100 times the amount of light the naked eye does. Although Dawes limit states maximum power for telescopes under good conditions is about 165 power for a 70 mm telescope, you can exceed this power on a steady night. This is a true apo triplet capable of high power when conditions permit. The only real limiting factor under steady air is the light gathering limitation of this telescope. Check the Recommended Accessories section to make the best choice for eyepieces.
Two year warranty and Stellarvue Service:  We are with you for life. Stellarvue telescopes and accessories are covered by a two year warranty. But it does not stop there. Since we are a telescope maker, we can repair your telescope for a very nominal fee years after it goes out of warranty, should you accidentally drop it on concrete or otherwise damage it. Buy a Stellarvue Telescope with confidence. Our customer care is legendary.
Free shipping:  Order now and when ready the telescope will ship free to the lower 48 states only. Shipping will be either UPS or Fed Ex whichever has the lowest rate. 
Optical Test Report INCLUDED: This test report shows the optic in the telescope purchased is .95 Strehl or higher. This is our standard for all of our current production of apo triplets.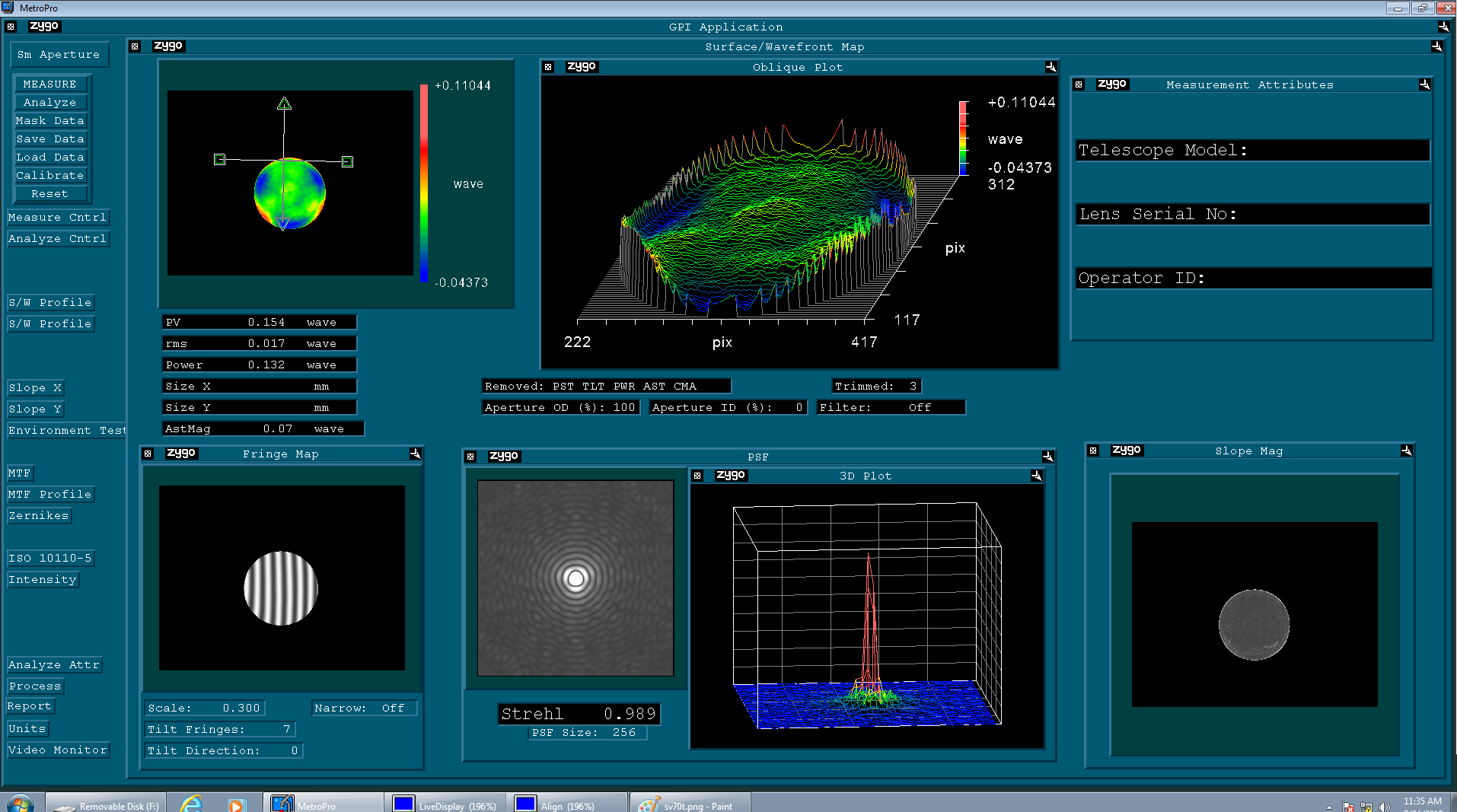 OPTIONAL VISUAL ACCESSORIES
Star Diagonal: 
Save $50 when you choose the option at the top of this page to the right of the telescope picture. Learn more on our 2" Dielectric Star Diagonal page.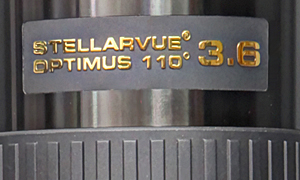 Eyepieces: We recommend a minimum of three different focal length eyepieces:
High Power Eyepiece for Planets, double stars and close views of the moon. We recommend either the EP 04.9, the EUW 04.0 or the EOP 03.6. Get the one with the widest field of view you can afford. 
Medium Power Eyepiece for deep sky objects including galaxies, star clusters and nebulae. We recommend the EUW 08.0 or the EOP 09.0. Get the one with the widest field of view you can afford. 
Low Power, Wide Field Eyepiece for larger extended objects, loosing yourself in the star fields of the Milky Way, etc. We recommend one of two options. If you are using a go-to computerized telescope mount the E7026R can serve a dual purpose. This eyepiece provides a wide 70 degree field of view and it has a crosshair reticle built in. This reticle will assist you in centering the three stars when you set up your telescope to operate in go-to mode. You can optionally purchase an illuminator for the eyepiece to make it easy to see the crosshair. Since this eyepiece is economical and has the crosshair, many of our customers like using it. For better overall correction and the widest field of view get the EOP 20.0.
Mount and Tripod:
Easy to use alt-azimuth mount. Use this with a heavy duty camera tripod such as Manfrotto 475. 
Computerized motor driven equatorial mount and tripod that is portable and economical
Finderscope:
To use your telescope in taking astro-photos we recommend our dedicated focal reducer/field flattener. Please note: each camera (and even each t-ring) has different spacing. We want to make this as easy as possible for you so please call us at (530) 823-7796 if you have any questions and we will assist you in getting the correct parts in order to attain the best images.
OPTIONAL PHOTOGRAPHIC ACCESSORIES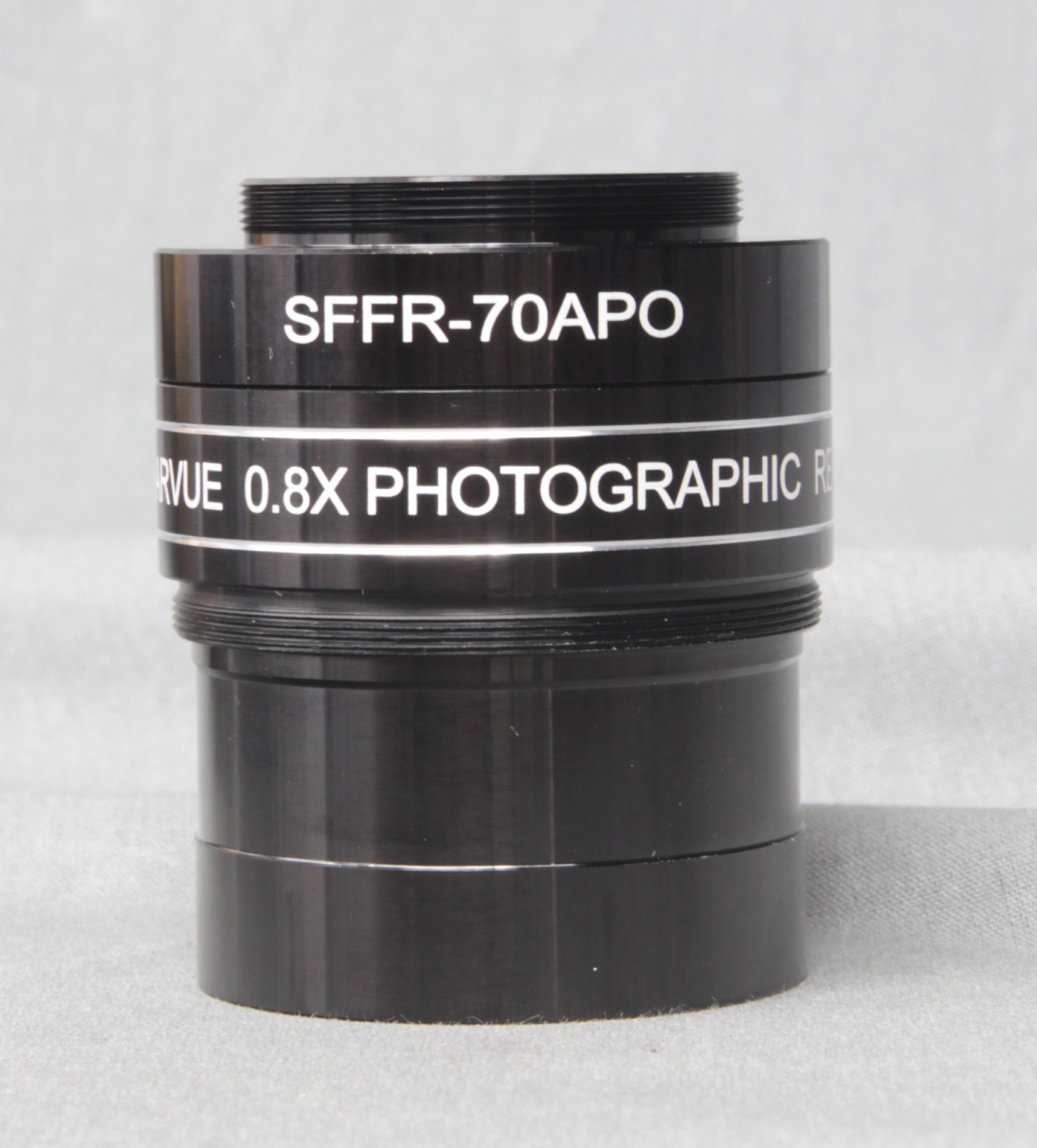 Stellarvue Photographic field flattener/focal reducer: To use your telescope in taking astro-photos you will need our optional photographic field flattener/reducer. To attach it, unthread the 2" adapter from the rotator at the rear of the focuser and thread the SFFR-70APO in its place. The SFFR-70T is threaded with a standard camera attachment t-thread (M42 X .75) so it will work with a standard DSLR t-adapter. If you are using a ccd camera, our SFFR70APO is made to work with a camera that has a t-thread (M42 X .75) and has either a 66 mm or 55 mm backfocus. If your camera has a different backfocus, Stellarvue sells a variety of t ring extension tubes and spacer rings to make up the difference. We want to make this as easy as possible for you so please call us at (530) 823-7796 if you have any questions and we will assist you in getting the correct parts in order to attain the best images.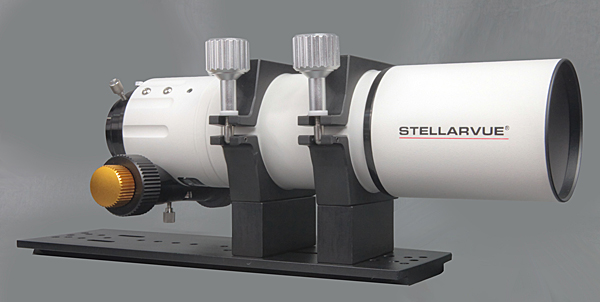 Riser Blocks: When adding a camera and imaging, or when you have any heavy accessory attached to the focuser, our riser blocks and rail allow you to reach balance by moving the telescope forward. The riser blocks raise the telescope 1.5" above the rail. The riser blocks are also available with two different sized rails that are long enough to move the center of gravity to the rear.  Learn more about Stellarvue Riser Blocks here. 
Below: Images courtesy of Jon Talbot taken with an SV70T f-4.8. His comment, "This scope is like a 300mm camera lens but much better corrected. The short focal length really makes this scope easy and fun to use."