| | |
| --- | --- |
| Article number: | NITECRAWLER |
| Availability: | Order Now! |
| Delivery time: | Ships in 2-3 business days from our Warehouse |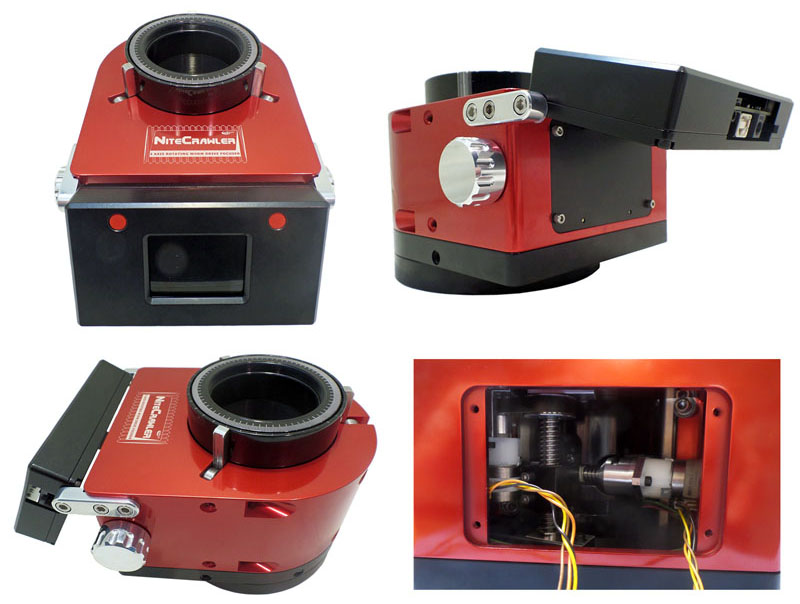 MoonLite's NiteCrawler models are a fully electronic focuser that uses fly by wire control technology for very accurate positioning in both focus and rotation. The patented design is intended for remote automation of large heavy imaging instruments providing extreme position accuracy that is repeatable down to .26 Microns. Vertical focus motion is handled by 3 Stainless Steel rails riding on 6 large 1/2" bearings under large pre load pressure. This allows the focuser to maintain center line mechanical point even with huge instrument loads hanging on it. Rotation is provided by an inner and out drawtube riding on a double row bearing track providing extreme rigidity. The drawtube is designed just like a tall bearing, but in this case is hollow. The Large stainless steel lead screws provide very accurate position and no backlash up to 25 lb instrument loads. The focuser holds heavy loads even with the power off and remembers position on power up, no need to re-home each time it is turned on.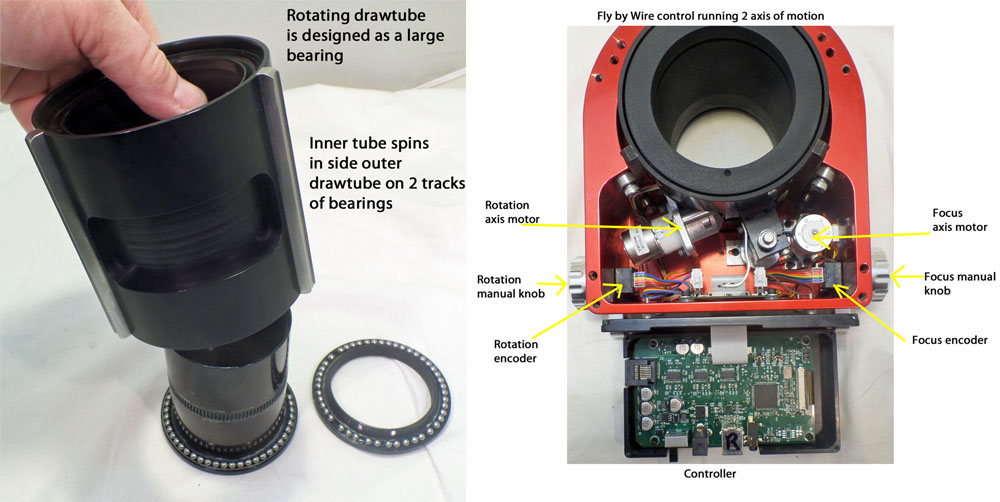 The design of the NiteCrawler uses positioning technology currently in use in todays CNC machines. The NiteCrawler has a built in controller with display for positional information. It also provides manual Jog handles/ knobs on encoders for both focus and rotation input right at the focuser. The Jog rate of the input knobs can be selected on the controller allowing the user to pick the resolution of each click on the knob. Note the knobs have a 32 position indent feel, so each click of the knob will move the selected axis 1 unit or multiples of one unit depending on the jog rate picked.
ASCOM drivers and SKYX direct plug, or our MoonLite program can be used to operate the focuser remotely.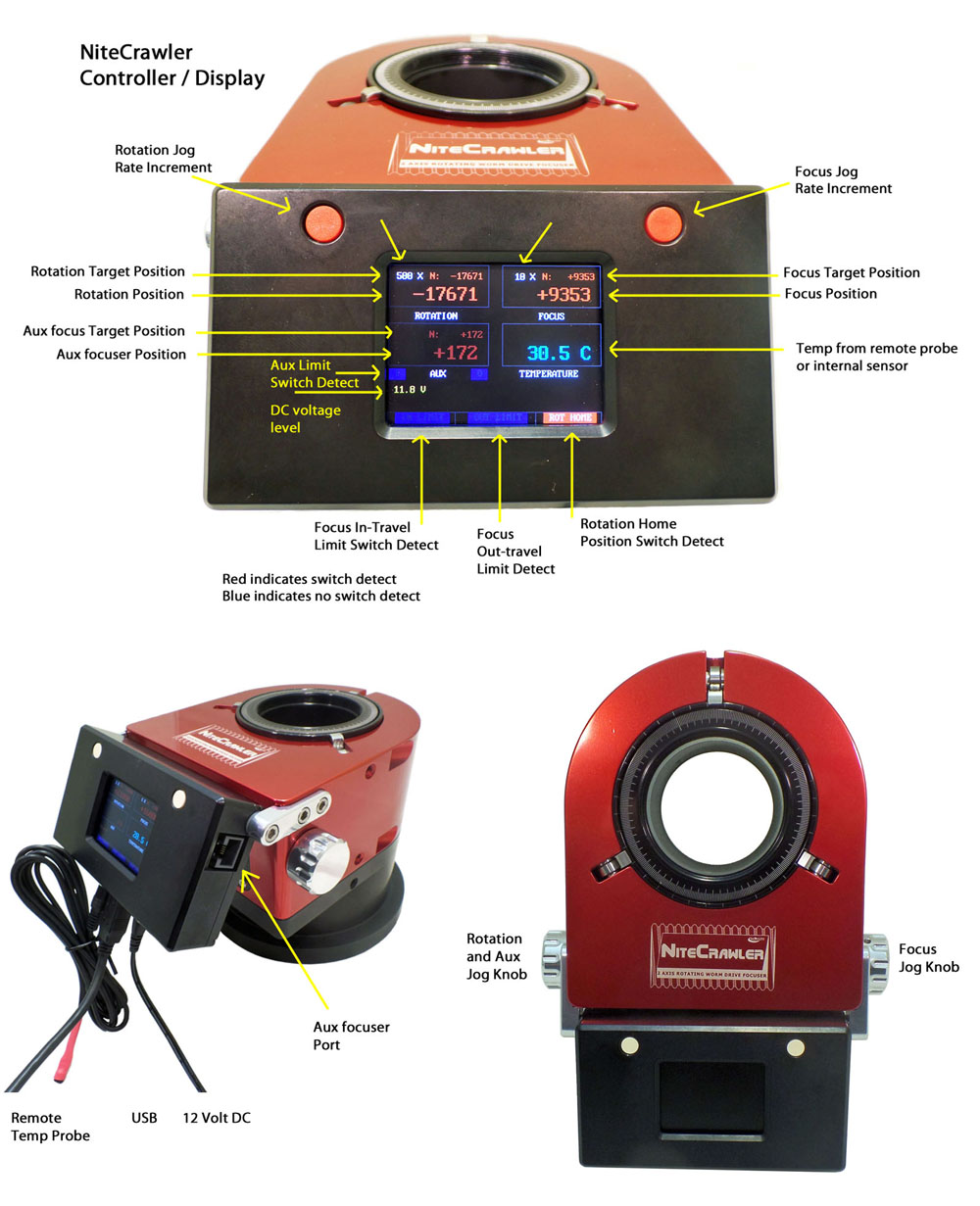 Introduction Video: MoonLite NiteCrawler 2axis Worm Drive rotating focuser
The NiteCrawler is offered in three format sizes:
WR25 2.5" format $2400
WR30 3.0" format $2650
WR35 3.5" format $2900

Specifications:
25 lb. instrument load capacity
2 axis no backlash lead screws
Rotating drawtube .001 degree resolution
WR25 374,920 steps per revolution
WR30 444,080 steps per revolution
WR35 505,960 steps per revolution
Approx. .9" travel, 94,580 steps per inch resolution
.0000105" per step or .2667 Microns per step
Large ½" high capacity bearings
3 point stainless steel linear rails
5 jog rates with 32 indent encoder knobs
Left knob rotation & Aux focuser/ Right knob focus
Eccentric cam bearing collimation system
Remote temperature probe
ASCOM / non-ASCOM / SKYX
Auxiliary motor port can run 3 optional accessories:

Optional Mini Worm secondary focuser
Optional automated dust cover
Optional Focal reducer/ flattener elevator positioning system

Most flange sizes in stock. Custom available on request
6 custom anodized colors
Power 12 volt / 400mA (both motors running), 120mA (Idle)
Weight - WR25 6 lbs. WR30 7 lbs. WR35 8 lbs.
Flange extenders available for adjusting profile .7" thick and 1.7" thick sizes
Thread in adapters for all cameras /reducers available
Drawtube extender rings included .5" , 1", 2" sizes
3.8" to 4.1" min profile, depends on lower flange picked
---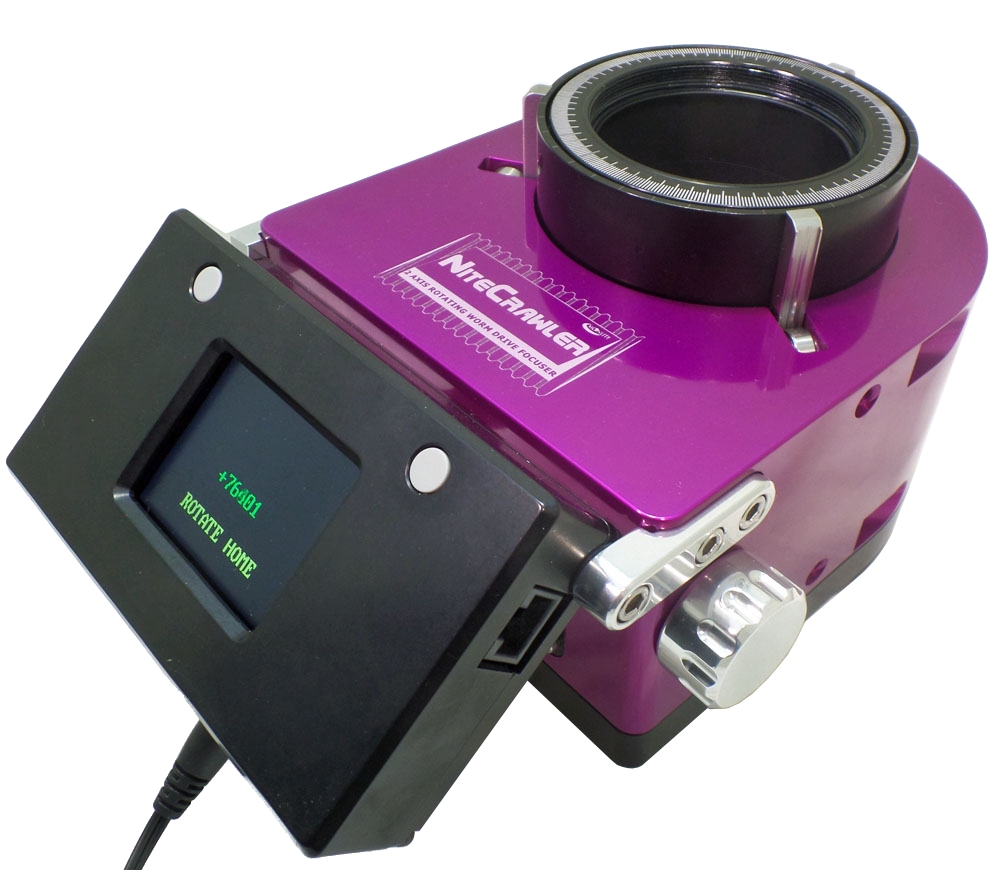 Auto Calibrate Mode - Hold down the right button while turning the power on. Let go of the button once the display comes up. The focuser will rotate in a CW direction finding the rotate home position first. It will then rack the drawtube down to find vertical focus home positon. This can take from 1 to 10 mins.
Note the limit indicator will go from Blue to Red when any of the magnetic position sensors are detected.
Auto Calibrate needs to only be done once, as the focuser remains at and remembers its last position when turned back on. However, the focuser can be re-calibrated at any time, even remotely using the utility program. This can be handy if cables get twisted or the focuser mechanical hits something to limit its motion. The motors are designed to simply stall if the focuser's movement is restricted (runs in to the mount).
No harm will come to the drive systems, but a stall situation will require re-calibrating the focuser.
---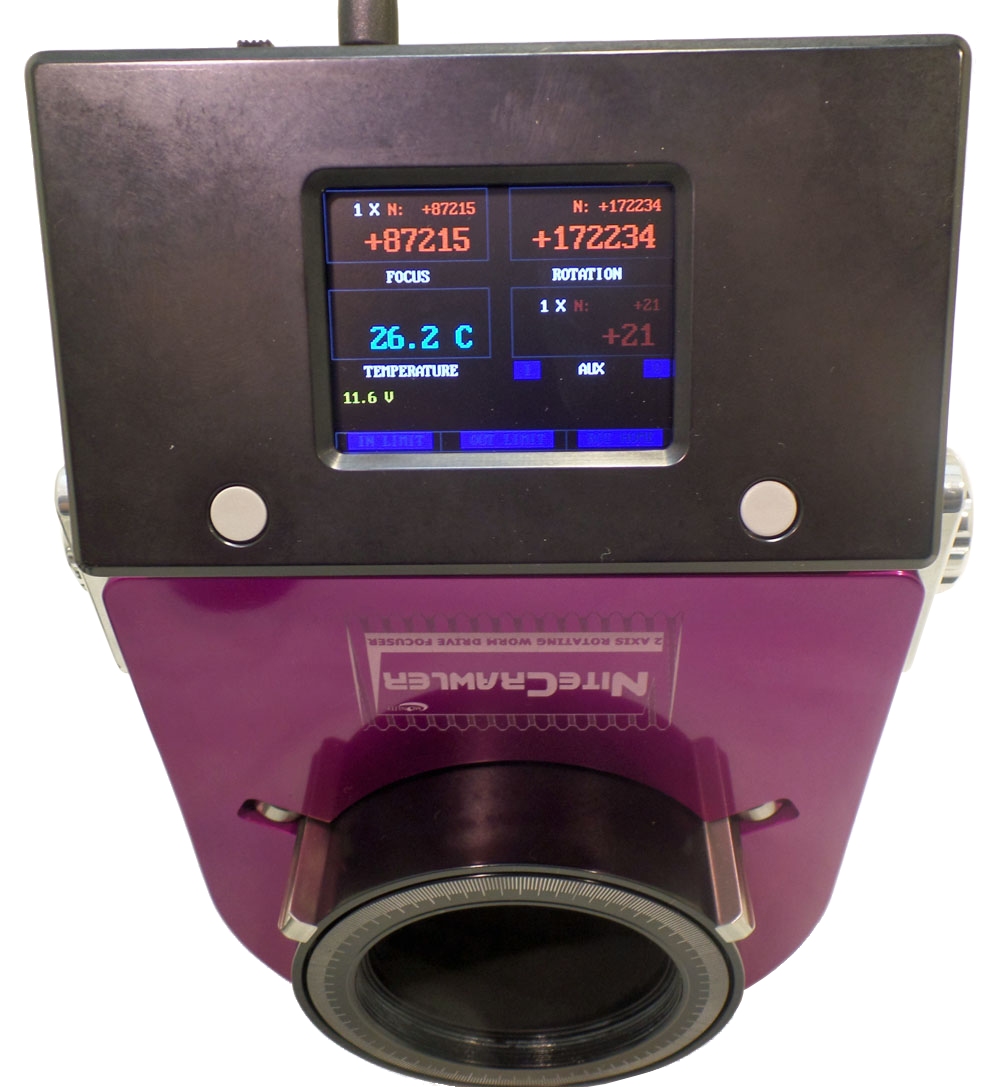 Inverted display mode is activated by holding down the Right side menu button for 3 seconds. Hold down again to revert back to normal upright display mode.
---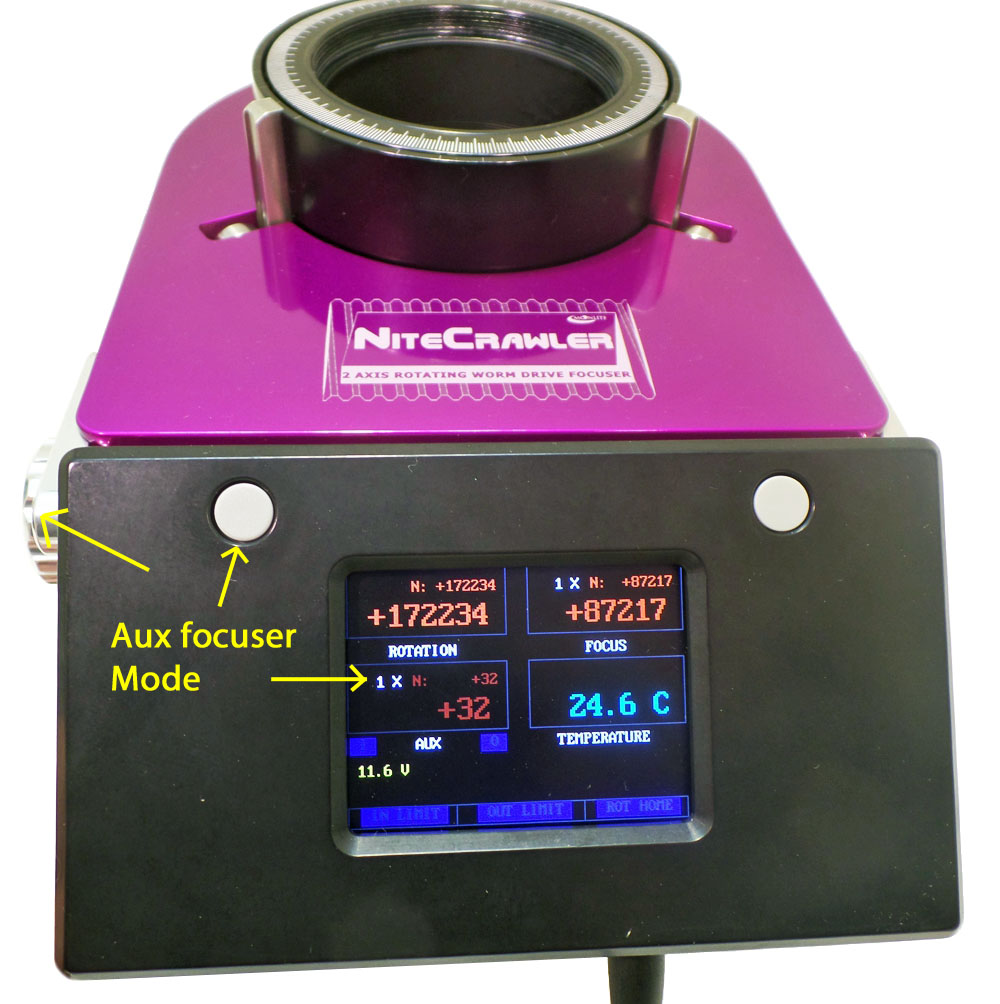 The Aux port (if an option is connected) can be ran using the left jog knob. Hold down the left Menu button for 3 seconds. The left jog knob will now operate the Aux port. Notice the 1 X rate indicator turns on in the AUX display area and turns off in the rotation area. To switch back, just hold the button down for 3 seconds again to change back to rotation mode. Aux port Accessories are Mini Worm focuser, automated dust cover, and 3rd axis FR/ flattener internal elevator positioning system (for WR35 model only).
---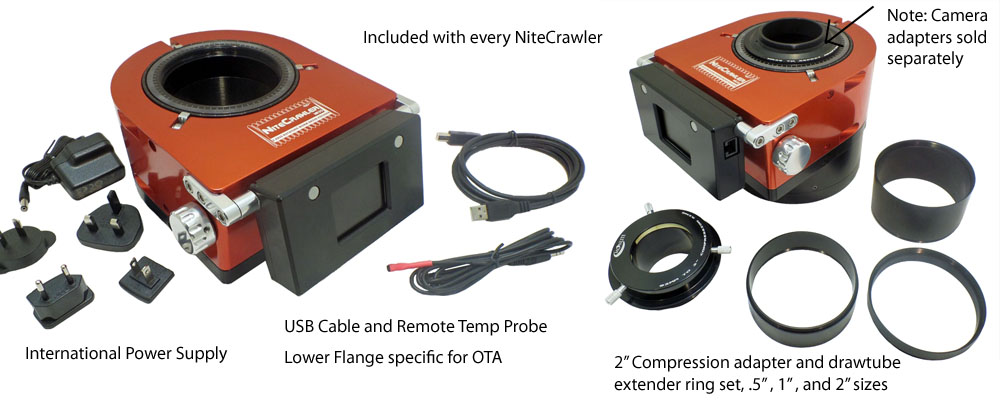 The NiteCrawler includes the Lower flange required to fit on the OTA it is ordered for. No need to source a 3rd party to machine a flange, we provide it free.
A universal 12 volt power supply with international plug styles is included along with a USB cable and a remote temp probe. Note if the remote temp probe is not plugged in to the controller, the focuser will use a internal temp sensor mounted on the circuit board, It is recommended to use the external remote probe for better accuracy.
One set of drawtube extender rings is included with all NiteCrawler focusers. We provide a .5" , 1", and 2" thick set to allow back focus adjustment. Please note specific thread in camera adapters are sold separately. Please see NiteCrawler adapters for your imaging needs. We make an adapter for all cameras plus reducers/ flatteners.
Installation Video: NiteCrawler Installation on 3 TAK's
---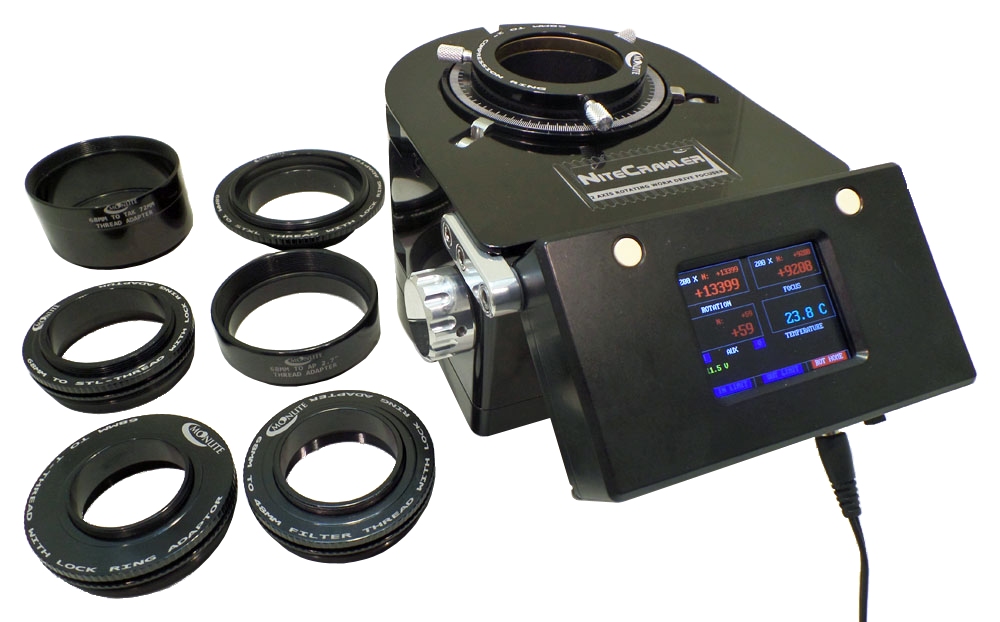 Sample thread in camera adapters shown on a WR25 format Nitecrawler.
---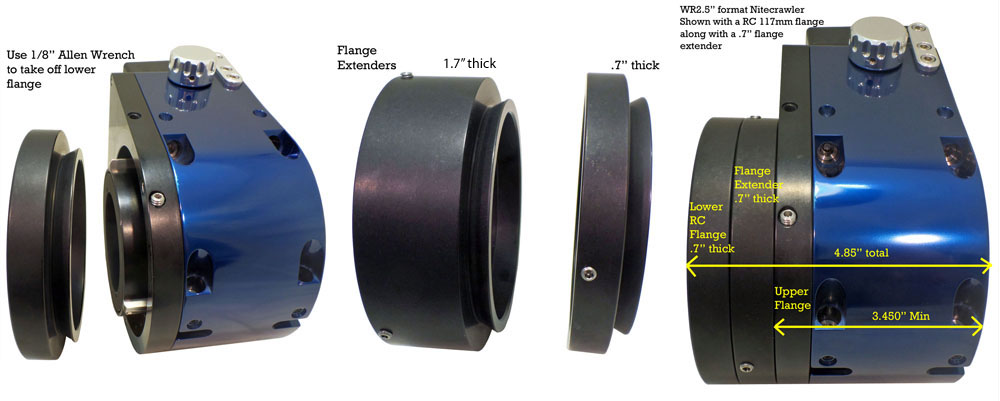 Sample flange extenders shown installed on a WR25 format NiteCrawler. Flange extenders are sold separately.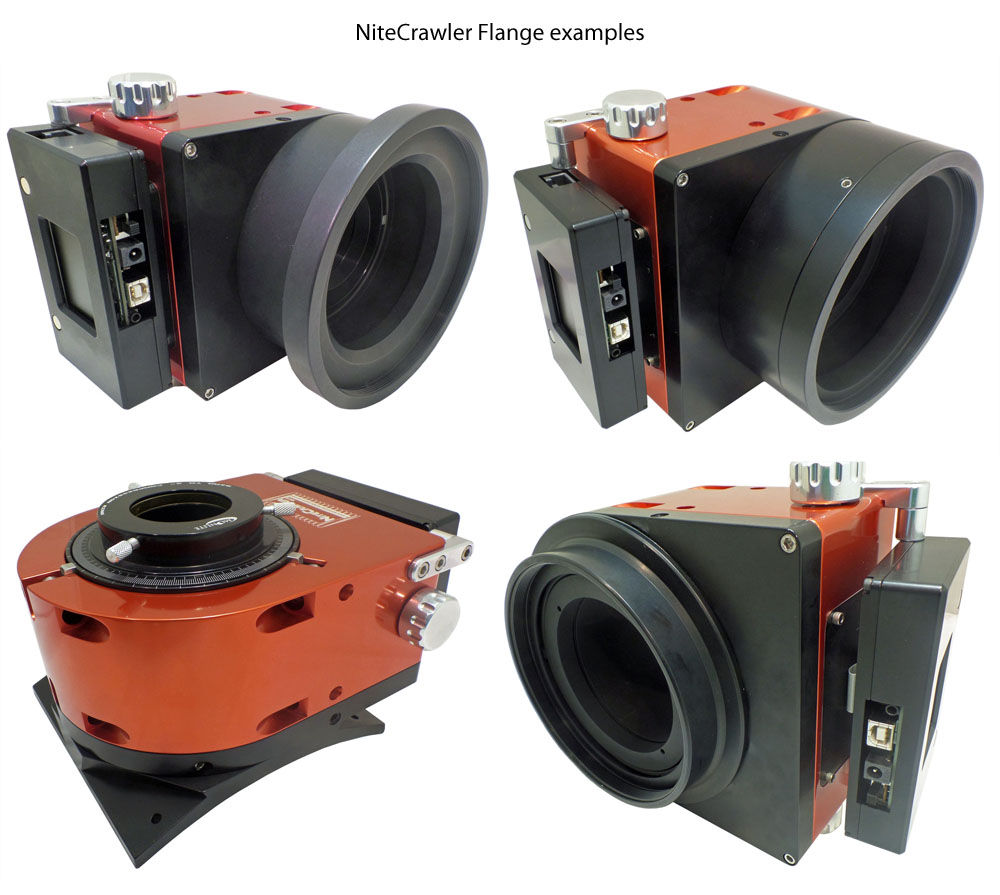 Moonlite makes many lower flanges for all 3 Nitecrawler size focusers. Refractors, RCs, SCTs, Newts.
Please see pull down menu at bottom of page for stock sizes. We also machine custom flanges by request if needed.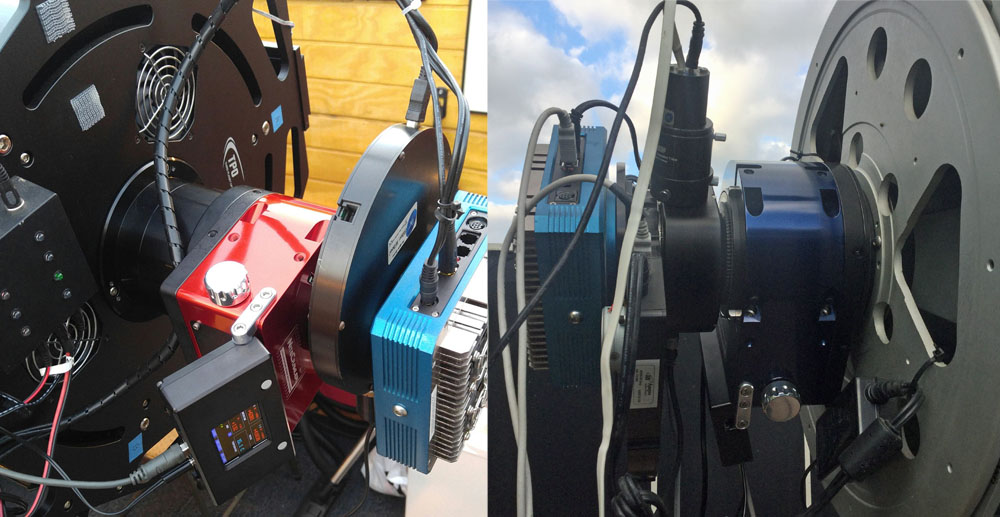 WR25 and WR30 shown on RCs
---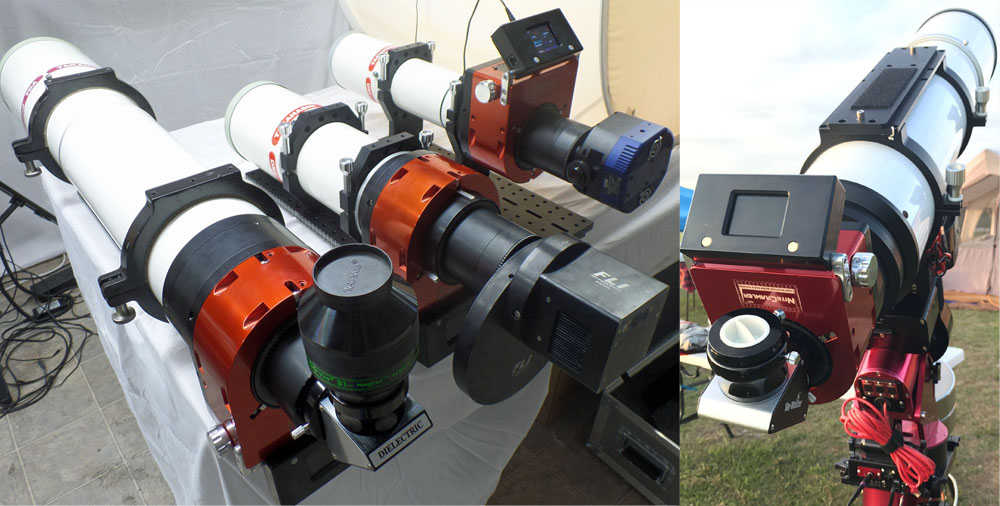 NiteCrawlers shown on refractors -- TOA130, FSQ106EDXIII, FSQ85, Esprit 150
---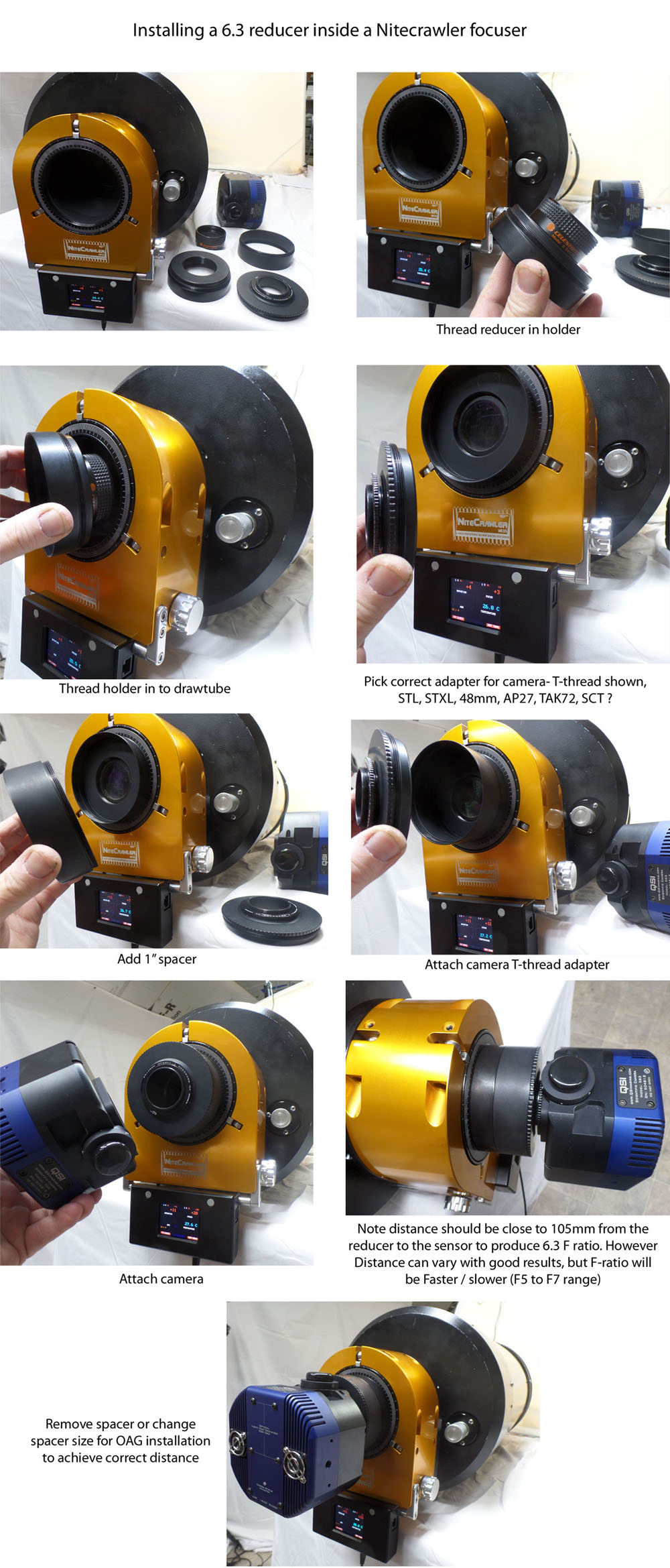 Moonlite Makes many reducer adapters for the NiteCrawler to allow reducers and Flatteners to be positioned down inside the drawtube saving back focus space. Please see them listed under adapters.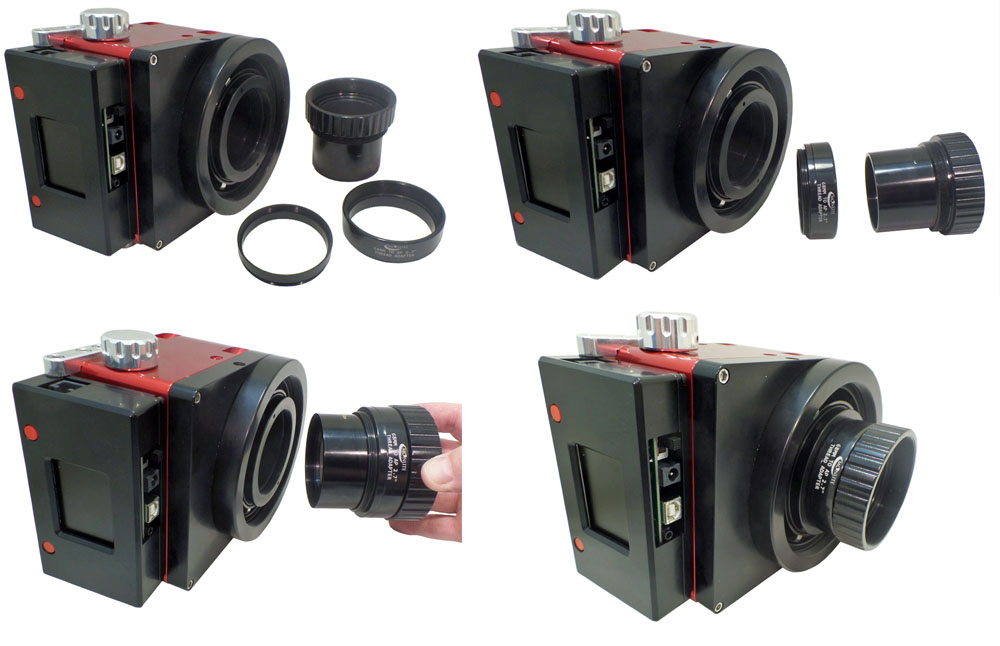 In this example we show an AP27 reducer being installed in to the bottom of a WR2.5" format Nitecrawler. Yes - I know the reducer is in upside down, It works outstanding in this configuration.
---
Moonlite's NiteCrawler Non ASCOM application: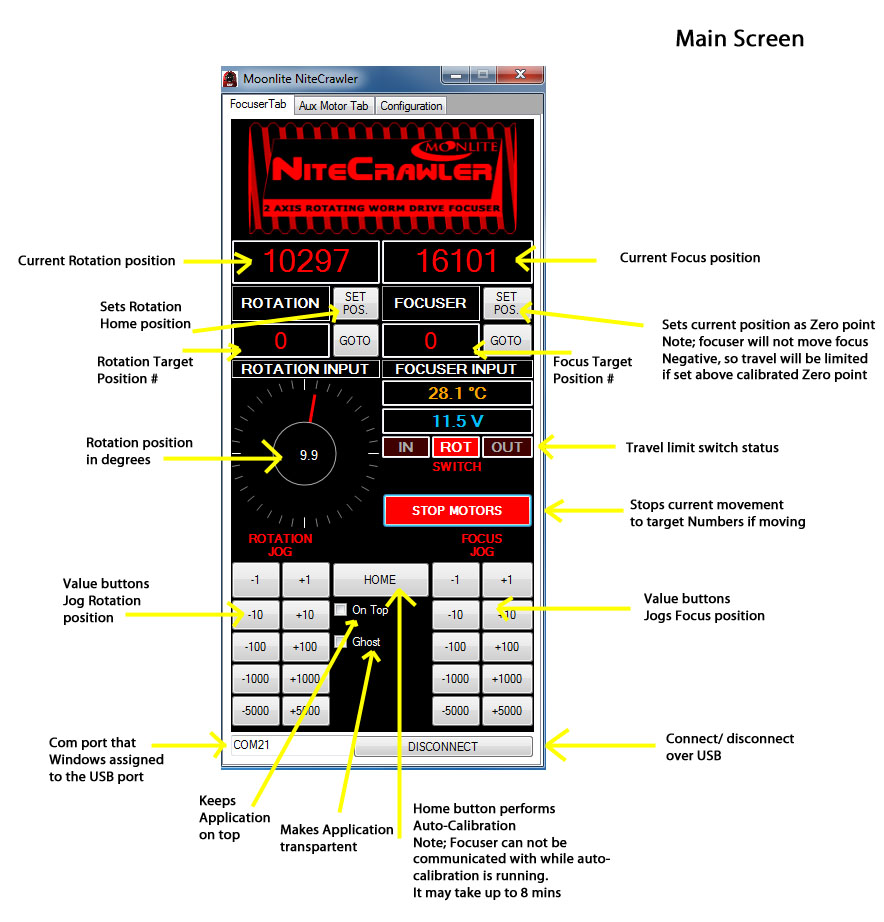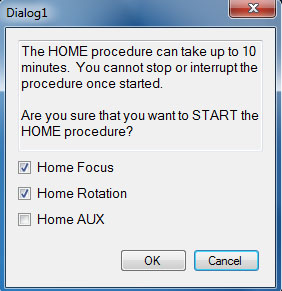 Home button will bring up a selection box for picking axis to calibrate. Note: this is the only way to home the Aux focuser if connected, as there is no manual access from the main NiteCrawler's controller. Home procedure can vary in time from 1 to 10 mins depending on the size/ model of the focuser and how far away the magnetic home switches are from the current position. The focuser will disconnect from the PC during any home procedure. Just wait for it to complete the process, then click on connect to resume control.
---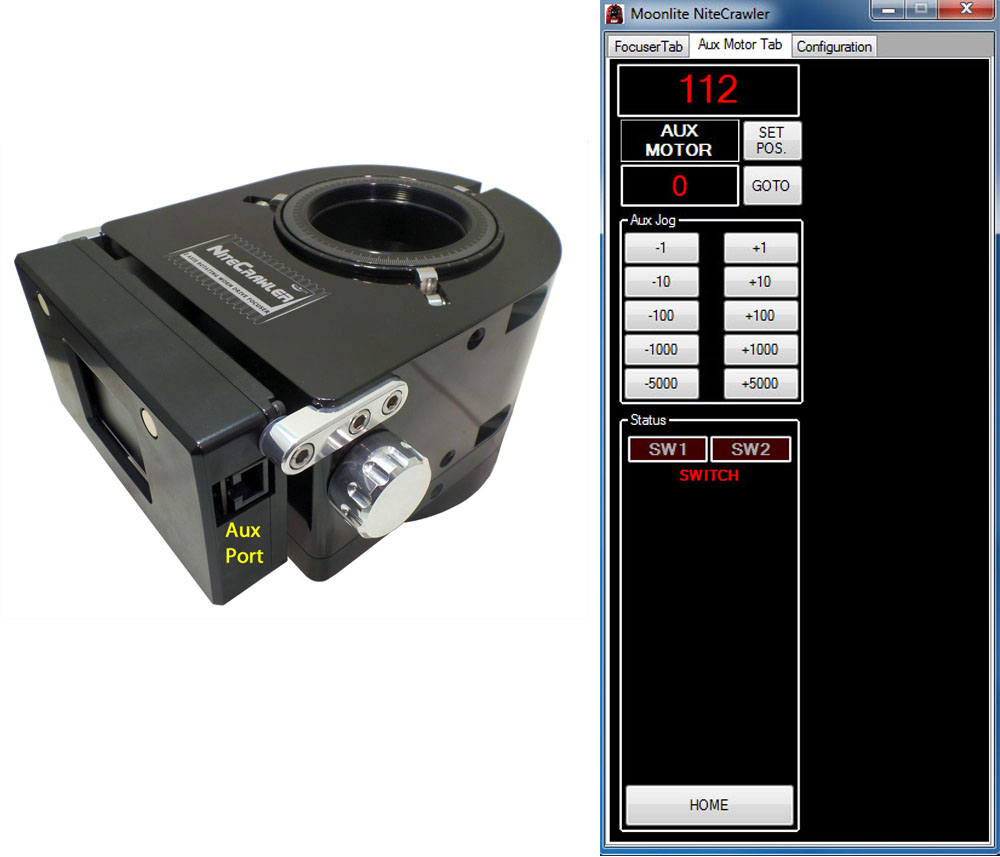 AUX Motor Tab
The Aux Motor Tab allows control of optional accessories plugged into the Auxiliary Port located on the side of the controller.
Three future options will be available: a Mini Worm focuser for OAG focus control or secondary guide scope. Automated Dust Cap / Shutter system. A 3rd axis reducer/ flattener internal elevator positioning system.
The Aux port can be controlled just like the other ports on the NiteCrawler focuser including magnetic limit switches and full positional control.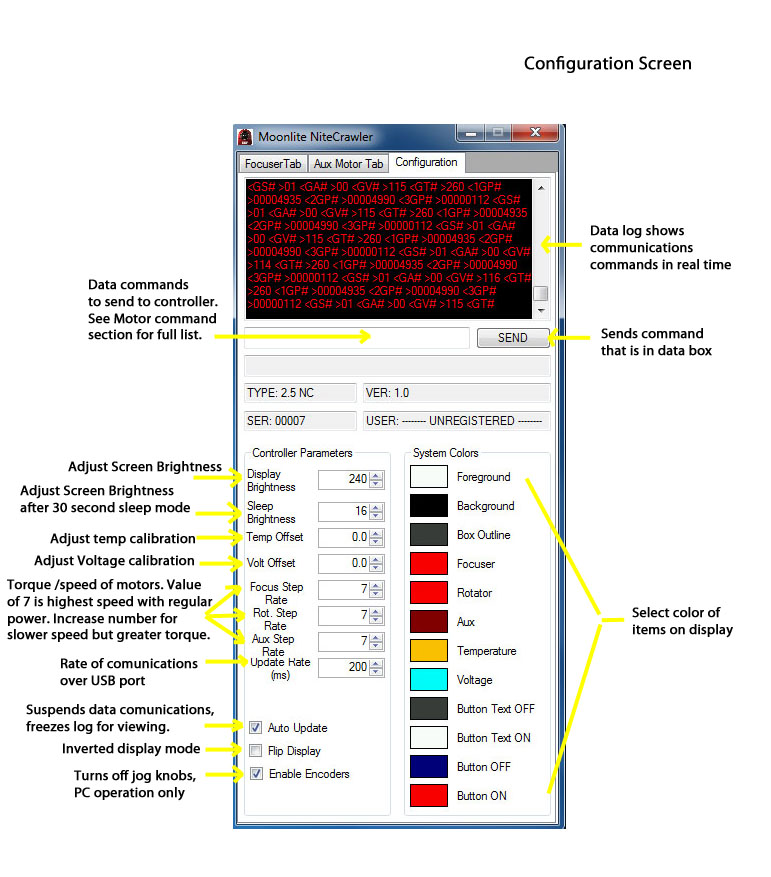 MoonLite Non-ASCOM utility program for NiteCrawler focusers and our Beta ASCOM driver is listed under the Downloads tab on the MoonLite Web page.
Scroll to the bottom of the page to the NiteCrawler section.
---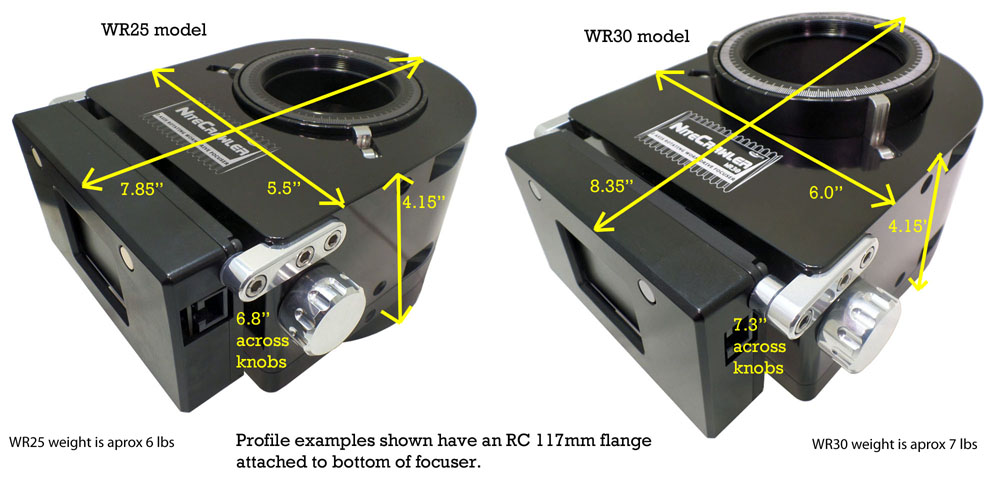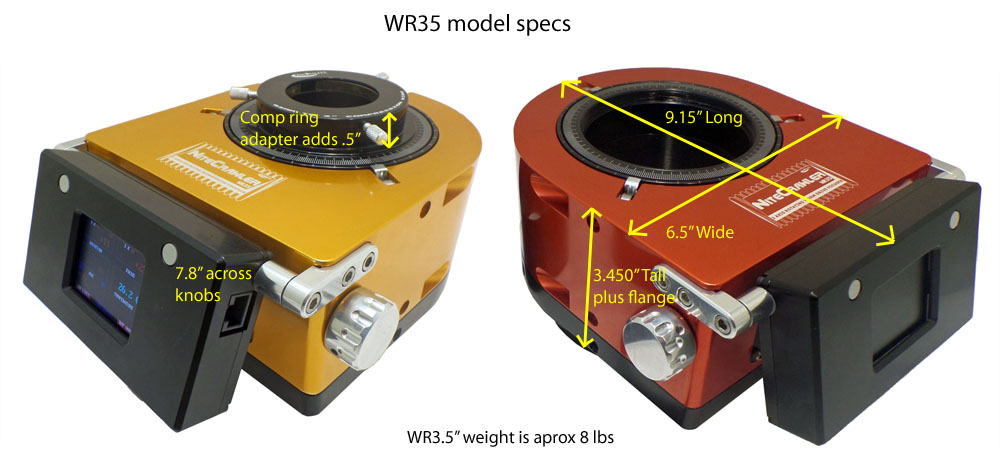 The NiteCrawler's profile is the same regardless of the size. Please note the total back focus used up by the focuser will be dependent on the lower flange picked.
---
Mechanical Adjustments
Collimation is factory set on a bench with a laser, but customers can change it by adjusting the 6 offset cam bearing holders. Please see the Video for collimation procedures if you need to make this adjustment. It requires a 3/32" Allen wrench for the turning the offset cam bearing holder and a small 3/32" Allen wrench to back off the locking set screw. The locking set screw needs to be backed out before the Offset Cams position can be rotated. Note the bearing to linear slide rails are under a fair amount of pressure, so changing the offset Cam bearing position also effect the drawtube rigidness and collimation at the same time. We test with a heavy leveraged load when collimating the focuser to be sure sufficient pressure exist between the bearings and the rails during the adjustment process.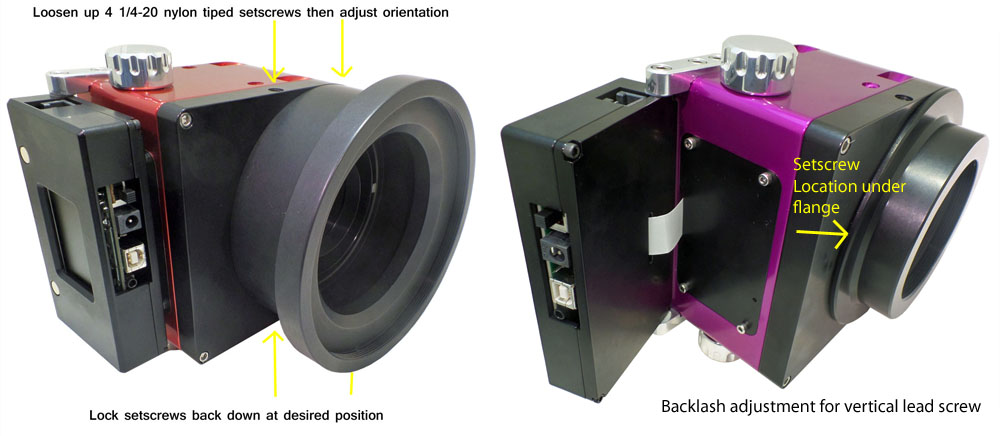 Focusers orientation can be adjusted once the focuser is threaded on the OTA. Adjust the focuser's position Then snug up the 4 locking setscrews with an 1/8" Allen wrench to lock the position in place.
Vertical lead screw backlash adjustment is a hidden setscrew located under the lower flange. It is factory set but accessible if needed by removing the lower flange. A 3/32" Allen wrench is required. This adjustment is factory set and should not be adjusted unless service or a part is replaced in the focuser. The focuser is adjusted for Zero backlash on the vertical worm drive.