| | |
| --- | --- |
| Article number: | MTS-1000 |
| Availability: | Order Now! |
| Delivery time: | Ships in 2-3 business days from our Warehouse |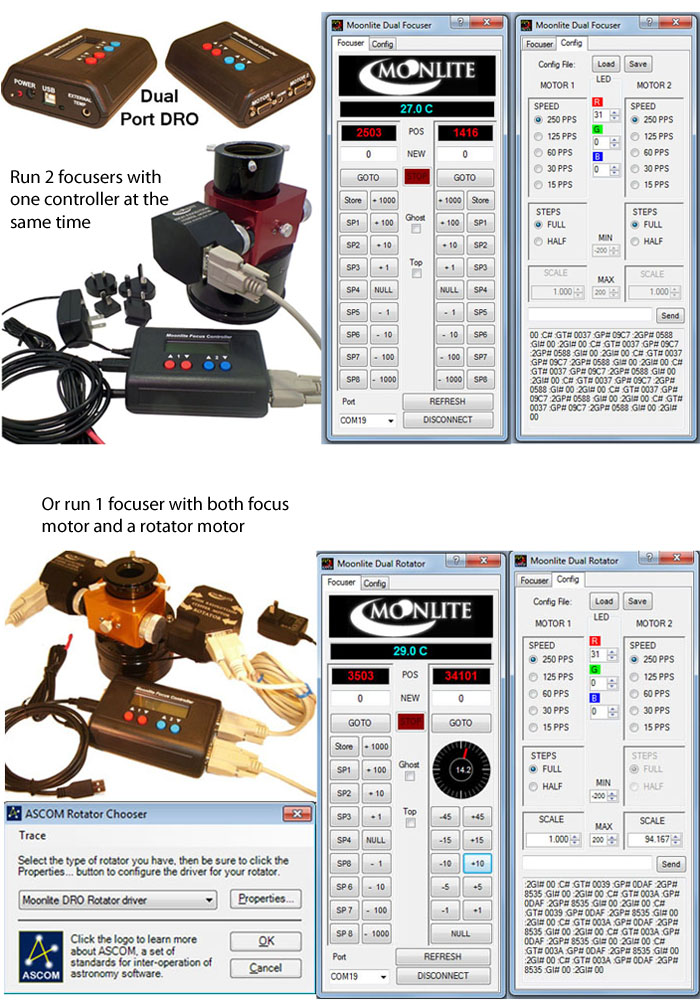 MoonLite DRO Dual port display controller works with all MoonLite high res stepper motors, both the original stepper motor and the new slip clutch version. The controller has 2 ports so it can run either 2 focusers on separate telescopes at the same time, or one focuser with both a focus motor and a rotator motor. The controller is an ASCOM compliant stepper motor controller that works with all ASCOM based software packages out there today such as Focus Max, CCDSoft, MaximDL, SGP, etc. However we include non ASCOM based software programs for customers that may not want to run ASCOM. The Focus Controller has a remote temperature probe and runs on 12 Volts DC. We include an AC adapter that has all the different plug configurations (US, Europe, UK, and Australia); however, most customers will simply use 12-volt power off their mount. This DRO dual port display controller is designed to be used remotely by a PC or at the scope location using the buttons and DRO display, no PC required. It can do both manual and PC operation at the same time. A USB cable, two DB9 motor controller cables, remote temp probe, and serial cable is included along with a 12 Power supply.
Full PC ASCOM compliant SW ability( just install out ASCOM driver).
Full manual operation with position display at the scope and at the PC
Also works with MoonLite's non ASCOM based software for simple operation.
Temperature probe
USB
12 volt multi voltage / plug system adapter to work in all countries.
includes all cables
$495
Please see Motor URL for more information
https://focuser.com/motorfocus.php

Please see Download page for Software
https://focuser.com/downloads.php